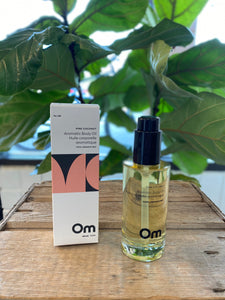 Om Organics- Pink Coconut Body Oil
Regular price
Sale price
$32.00
---
Awaken your skin's natural vitality and radiance with this luxurious body elixir! We carefully selected natural oils that absorb fully into your skin and leave you with a healthy, moisturized glow - without the greasy after-feel. Combine all that with the warm scent of pink coconut, and you have one dreamy body oil!
KEY INGREDIENTS
Meadowfoam Oil

Locks in moisture and allows entire formulas to penetrate deep into the skin. The oil's composition is strikingly similar to that of sebum, which balances the overall functioning of your skin.

Jojoba Oil

Rich in beauty-boosting vitamins A, E and D, plus antioxidants and fatty acids, jojoba oil is remarkably similar properties to our skin's own sebum. This means the oil is able to penetrate deeply, reaching below the top layer of skin for maximum nourishment.

Olive Squalane

Squalane oil is easily absorbed and prevents water loss from the skin. One of the reasons it makes for such an effective moisturizer is that our skin recognizes it instantly, since it's a form of a substance our bodies naturally produce. (Translation: The lightweight oil absorbs into even the deepest parts of our skin quickly and easily!)
FULL INGREDIENTS LIST
Capric Triglyceride (Fractionated Coconut Oil), Prunus Armeniaca (Apricot) Kernel Oil, Limnanthes Alba (Meadowfoam) Seed Oil, Simmondsia Chinensis (Jojoba) Seed Oil, Olive Squalane, Vitamin E, Cocos Nucifera (Coconut) C02 Extract, Rosa Damascena (Rose) Flower Oil.
REGIME
Drop some into the bath: Now, this is one place your normal lotion can't go. Add a few drops of body oil to the bath to let the moisturizing process begin as you soak.
Apply all over post-shower: Before toweling off and while your skin is still damp, drop oil over your entire body. A little goes a long way and works wonders to replenish dry skin.
Show extra dry spots TLC: Give those pesky dry spots (like heels and cuticles) an extra dose of oil to show those areas some tender love and care. It'll make all the difference in the long run.
Use it as a massage oil: Another great way to put your body oil to good use is to use it as a massage oil. Have your S.O. massage your back, feet, or wherever you need it the most. This will make your skin soft, loosen up the muscles, and relieve stress — basically, using an oil is an all-around win.
Eliminate stretch marks: Because oils penetrate deep beyond that first layer of skin, they're great for reducing the appearance of stretch marks. You'll notice a difference over time as oils work to promote elasticity, preventing stretch marks from showing up again.
Prevent razor burn: If you've ever cut yourself while shaving (because it happens to the best of us), then you know just how important it is to prep your skin pre-shave. Apply oil to your legs for a clean shave sans the razor burns.